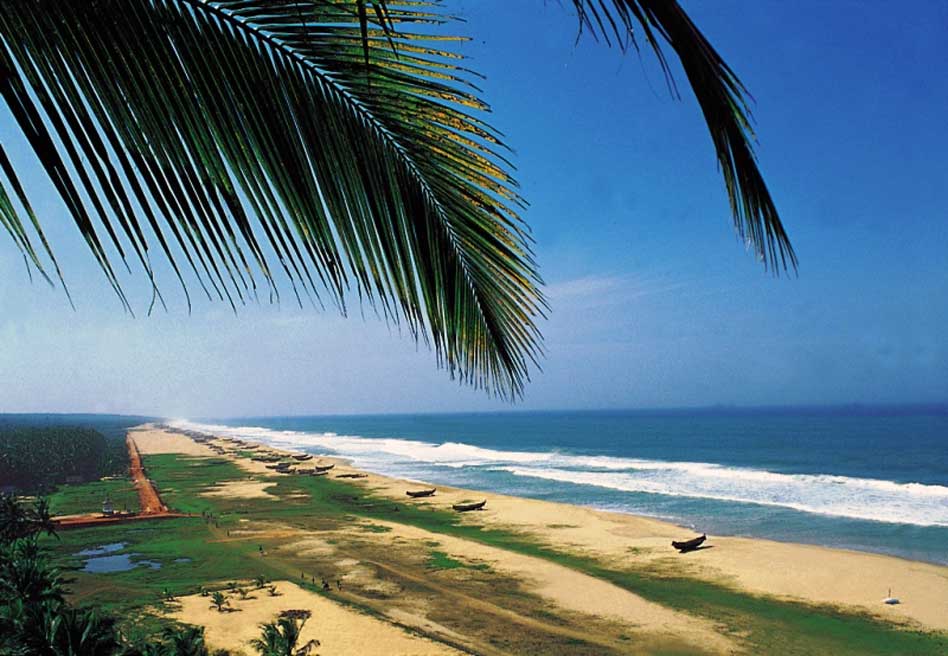 Beach holidays in India offer perfect getaways for honeymooners, couples and revelers alike. Treat yourself with seafood, spas and beach music, wide variety of water sports as scuba diving, water skiing and wind surfing.
India has a coastline of 7517 Km and boasts of some finest beaches in the world. Southern Region of India is surrounded by Bay of Bengal to the East, Arabian Sea to the West and Indian Ocean to the south. Most of the coastline is formed by peninsular Deccan Plateau and is just below Tropic of Cancer. Having tropical climate, Indian beaches have pleasant weather most of the year, barring peak summer and monsoon months (from May till July). Some popular beach destinations include Goa, Kerala and Andamans. The beaches of Puri, Bekal and Konkan are also getting popular.
Beach holiday in India offers variety of experiences. You can relax in solitude on a secluded sandy beach or enjoy the vibrant colourful nightlife on some other hot-spots. The virgin islands of Andamans and Lakshadweep offer mesmerizing marine life in the coral reefs. Andaman Nicobar Islands and Lakshadweep are heavens for snorkelling and diving enthusiasts.
Goa: A perennial favourite with foreign tourists, Goa is one of the senior-most members on Indian Tourism map. It was a Portuguese colony for a long period and the influence is visible in its culture and architecture. Visiting several churches, cathedrals and Portuguese mansions in Old Goa forms most of Goa sightseeing, apart from lazing on the beach, trying some water sports and, of course, indulging in Goan food and feni. The atmosphere in Goa is particularly electrifying around Christmas and New Year period. Goa offers widest range of accommodation starting from homestays, guesthouses, and rental apartments to luxury, boutique resorts. With our thorough research and vast experience, we can suggest just the right one for you.
Kerala: The beaches of Kovalam are as famous as Goa. Pristine sandy beaches coupled with Kerala hospitality make them a tempting holiday destination. A beach holiday in Kerala can easily be combined with some culture, Ayurveda, wildlife or a hill-station.
Andaman & Havelock: Once known as Kalapani – Black Waters – for their role as a feared penal settlement, the Islands were shrouded in the mystery for centuries because of their inaccessibility. Today, the superb, near-deserted beaches, incredible corals and marine life, an intriguing colonial past and the remnants of a Stone Age culture lure travellers to these mysterious islands. With one of the Andaman's most dazzling beaches, Havelock is the island of choice for travellers. It's easily accessible from Port Blair, and offers excellent snorkelling and scuba-diving opportunities.