Chand Baori (Abhaneri Stepwell)
One of the hidden secrets of India, The Chand Baori (stepwell) is one of the largest stepwells in the world and also one of the most beautiful ones. It is built over a thousand years ago in the Abhaneri village of Rajasthan near Alwar. Located between famous cities of Jaipur and Agra, it was built by King Chanda somewhere in the 9th century. Centuries ago, the stepwells were built in the arid zones of Rajasthan to provide water all year through. Chand Baori was built during the 8th and 9th centuries and has 3,500 narrow steps arranged in perfect symmetry, which descend 20m to the bottom of the well. The baori also has precise geometrical patterns, hard to find in this age. The steps form a magical maze and the consequent play of light and shadow on the structure gives it a captivating look.The stairs encircle the water on the three sides while the fourth side boasts of a pavillion with three storeys with beautiful carved jharokhas, galleries supported on pillars and two projecting balconies enshrining beautiful sculptures.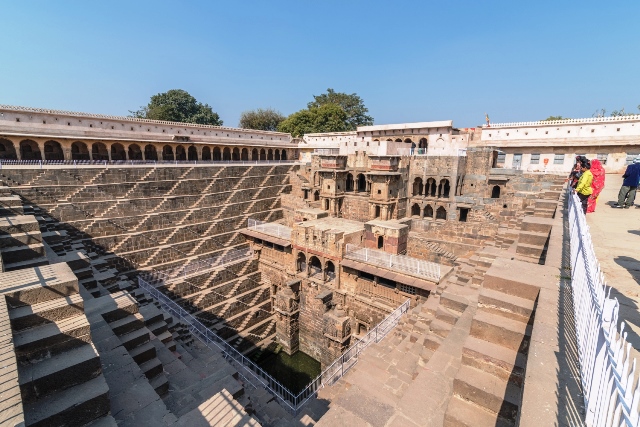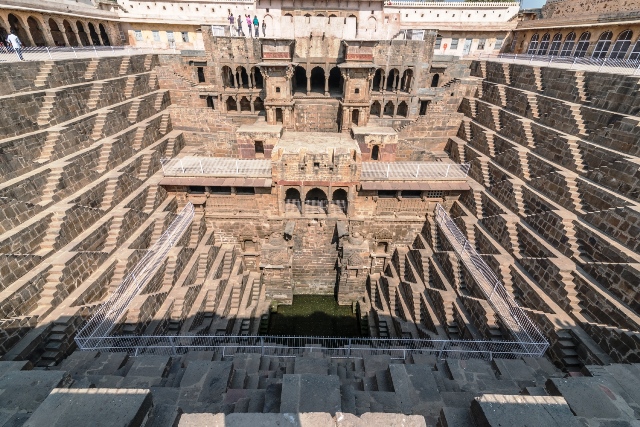 Harshat Mata Temple
Adjoining the Chand baori is the architecturally splendid and sculpturally beautiful Harshat Mata temple which was built between the 7th-8th centuries, but was destroyed and damaged by Mahmud Ghazni. Many of its pillars, columns, statues now lie scattered in the temple courtyard and in the corridors of the structure. The temple was dedicated to Harshat Mata, believed to be the goddess of happiness and joy, who spread her glow and brightness (abha) around the town. That is why the small village was called the Abhanagri (city of brightness), which over the centuries has become Abhaneri. The scene from the temple courtyard is picturesque with green fields, narrow village roads, tiny houses and the sun playing hide and seek on the landscape.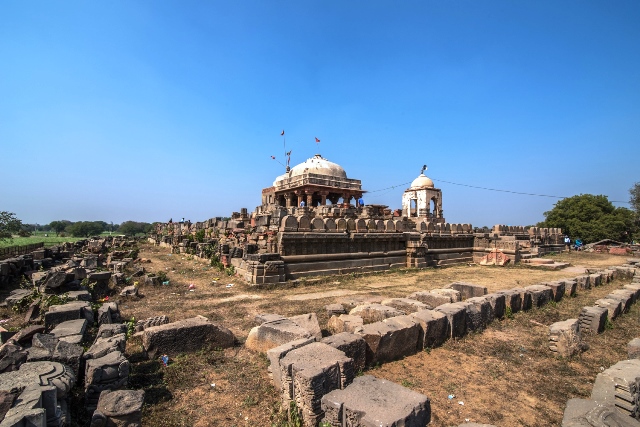 Get a Custom made Tour Plan with No Obligations Quote
If you like this tour and would like a custom tour plan to your requirements, then please fill the form given below. You can specify destinations, number of days you would like at each destination, activities, hotel categories, specify vehicles, request a guide or translator, etc. If you are traveling with children or elderly please let us know so that we can prepare the plan accordingly. In case you can't find a specific destination listed on our site then let us know and we will work it out for you. We will send you a custom made tour plan and a no obligation quote. We look forward to welcoming you! See you soon!