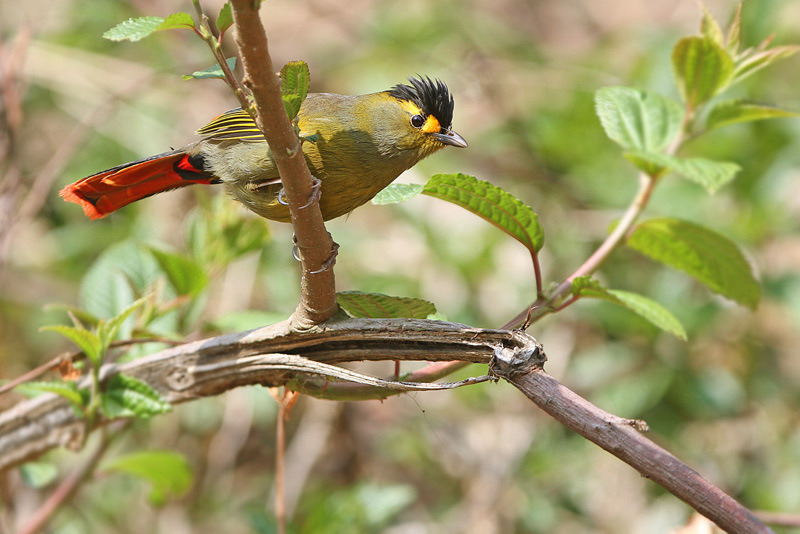 Eaglenest or Eagle's Nest Wildlife Sanctuary is a protected area of India in the Himalayan foothills of West Kameng District, Arunachal Pradesh. It conjoins Sessa Orchid Sanctuary to the northeast and Pakhui Tiger Reserve across the Kameng river to the east. Altitude ranges are extreme: from 500 metres (1,640 ft) to 3,250 metres (10,663 ft). It is a part of the Kameng Elephant Reserve. Eaglenest is notable as a prime birding site due to the extraordinary variety, numbers and accessibility of species. Eaglenest derives its name from Red Eagle Division of the Indian army which was posted in the area in the 1950s. Eaglenest was declared Wildlife Sanctuary in 1989 with an area of 218 square kms.
Tour Itinerary:
Day 1- Pick up from Guwahati airport and transfer to Nameri. Arrival at Nameri and night stay.
Day 2- Morning birding at Nameri, a raft for 02 hours at Jia Bhorolu. Departure for Eaglenest after finishing morning birding. Arrival at Eaglenest during evening, overnight at Lama Camp.
Day 3- Morning birding at Lama Camp, departure for Bompu Camp in the afternoon, birding on way. Arrival at Bompu Camp and night stay.
Day 4- Whole day birding around Bompu Camp. Overnight at Bompu Camp.
Day 5- Whole day birding around Sesni area. Overnight at Bompu Camp.
Day 6- Half day birding around Bompu Camp area, departure for Dirrang. Bompu to Dirrang roadside birding. Overnight at Dirrang.
Day 7- Whole day birding at Sela pass. Overnight at Dirrang.
Day 8- Morning birding at Dirrang, departure for Nameri in the afternoon. Arrival at Nameri and overnight at Nameri.
Day 9- Morning birding for wood duck at Nameri (if time permits). Departure for Guwahati Airport after finishing birding. Drop off at Guwahati airport, tour concludes.
–End of Tour —
Target Birds: Bugun Liolichla, Spotted Wren Babbler, Ward's Trogon, Red-breasted Partridge, Blyth's Tragopan, Temminck's Tragopan, Grey Peacock Pheasant, Goosander, White-winged Wood Duck, Pale-headed Woodpecker, Bay Woodpecker, Crimson-breasted Woodpecker, Blue-eared Barbet, Wreathed Hornbill, Blyth's Kingfisher, Violet Cuckoo, Asian Emerald Cuckoo, Blossom-headed Parakeet, Hodgson's Frogmouth, Grey Nightjar, Thick-billed Green Pigeon, Black-tailed Crake, Eurasian Woodcock, Ibisbill, Jerdon's Baza, Pied Falconet, Blue-naped Pitta, Silver-breasted Broadbill, Slender-billed Oriole, Hodgson's Redstart, White-tailed Robin, White-crowned Forktail, Purple Cochoa, Green Cochoa, Beautiful Nuthatch, Brown-throated Treecreeper, Yellow-cheeked Tit, Yellow-browed Tit, Rufous-fronted Tit, Hill Prinia, Slaty-bellied Tesia, Russet Bush Warbler, Booted Warbler, Mountain Tailorbird, Large-billed Warbler, Yellow-vented Warbler, Grey-cheeked Warbler, Broad-billed Warbler, Rufous-faced Warbler, Yellow-bellied Warbler, Rufous-vented Laughingthrush, Grey-sided Laughingthrush, Bhutan Laughingthrush, Red-faced Liolichla, Abott's Babbler, Buff-breasted Babbler, Spot-throated Babbler, Coral-billed Scimitar Babbler, Long-billed Wren Babbler, Eye-browed Wren Babbler, Rufous-throated Wren Babbler, Bar-winged Wren Babbler, Spotted Wren Babbler, Wedge-billed Wren Babbler, Rufous-fronted Babbler, White-hooded Babbler, Yellow-throated Fulvetta, Brown-throated Fulvetta, Rufous-backed Sibia, Beautiful Sibia, Long-tailed Sibia, White-bellied Yuhina, Lesser Rufous-headed Parrotbill, Greater Rufous-headed Parrotbill, Tibetan Siskin, Dark-rumped Rosefinch, Grey-headed Bullfinch, Yellow-breasted Bunting, Chestnut Bunting etc.
Cost: Please fill query form to request a quote
Tour Leader: Mukul Azad + One Local Guide
Tour Cost Inclusions
Conveyance charges from Guwahati Airport and back in non-ac vehicle
Eight nights stays in very basic hotels/camps on twin/triple sharing basis as per itinerary
All meals (basic local cuisines only) as per meal plans of the accommodations only
All entry fees, guide charges, taxi and driver charges
Service of dedicated professional wildlife photographers and naturalists for the entire tour
All applicable taxes
Tour Cost Exclusions
Travel cost from participant's home town to Guwahati airport and back
Any extra food item not included in the meal as per itinerary
Any alcoholic beverage
Any non-alcoholic beverage not included in the meal as per itinerary
Laundry, phone call, etc. personal charges
Tips
Anything which is not mentioned in "Tour cost includes"
Get a Custom made Tour Plan with No Obligations Quote
If you like this tour and would like a custom tour plan to your requirements, then please fill the form given below. You can specify destinations, number of days you would like at each destination, activities, hotel categories, specify vehicles, request a guide or translator, etc. If you are traveling with children or elderly please let us know so that we can prepare the plan accordingly. In case you can't find a specific destination listed on our site then let us know and we will work it out for you. We will send you a custom made tour plan and a no obligation quote. We look forward to welcoming you! See you soon!