Hola Mohalla is an annual Sikh festival, celebrated extensively over three days mainly at the Anandpur Sahib Gurudwara, in the state of Punjab.
The festival dates back to the 18th century, when guru Gobind Singh, the last of the 10 Sikh gurus, created an occasion for Sikhs to show off their martial arts skills and host mock battles. Today, Sikh communities commemorate the holiday by hosting martial arts parades, taking part in devotional worship, singing and community outreach efforts.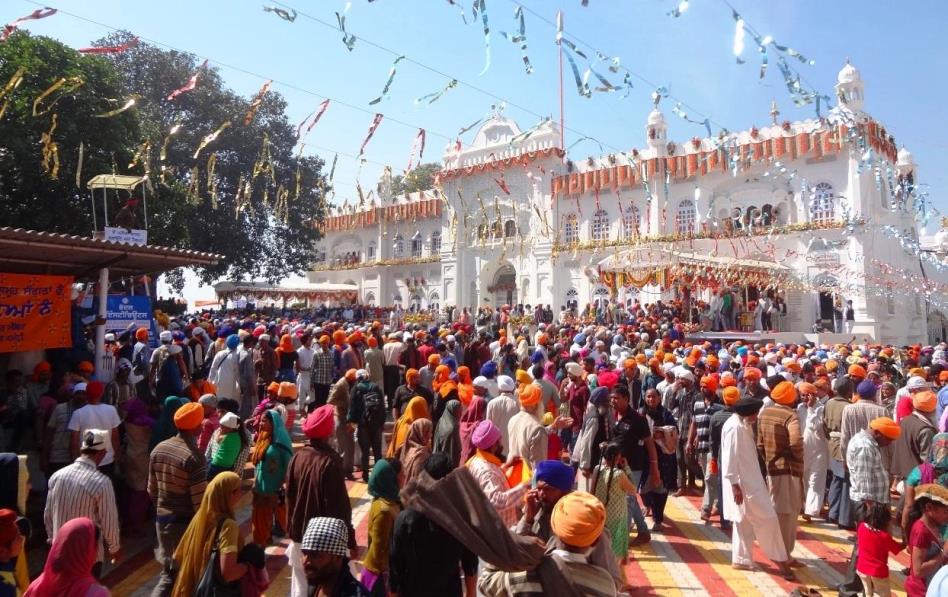 It is a martial fair that was introduced by Sikh Guru, Guru Gobind Singh, to fortify the Sikh community by carrying out martial training and mock-drills, along with religious discussions.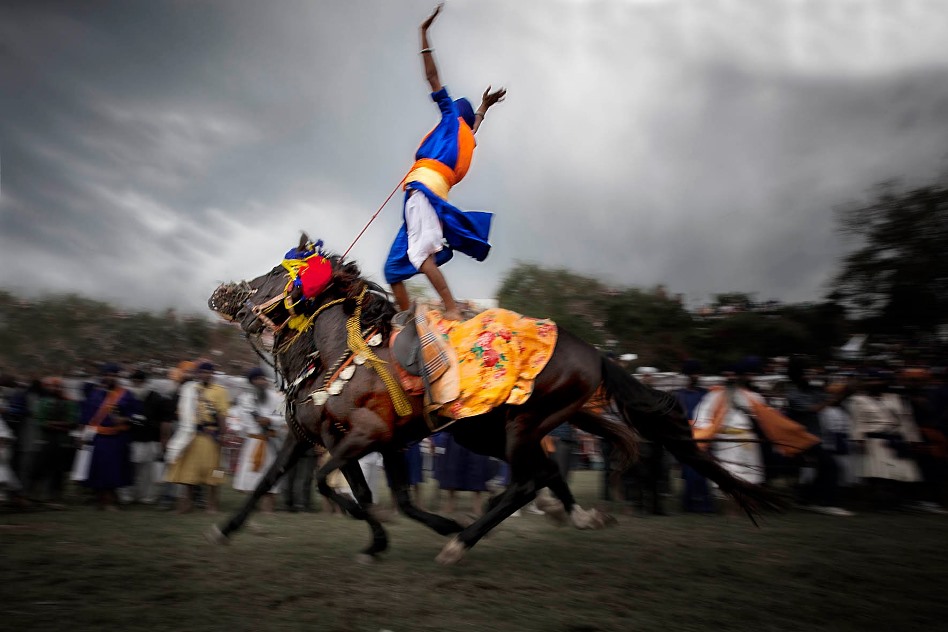 The festivities of Hola Mohalla begin by visiting the gurudwaras for early morning prayers. Durbars are held and the Guru Granth Sahib is read. Kirtans and religious lectures are carried out and after the religious ceremonies are over, the 'prasad' is distributed among the people.
The evening is filled with a lot of anticipation and thrill, as martial members of the Sikh community (Nihang Sikhs) display their physical strength through daring acts like mock-battles (Gatka), sword-fighting displays, archery and exercising on speeding horses.
They also splatter colours on the audience. This is followed by cultural activities including music, dance and poetry programs and competitions to unwind the charged up atmosphere. A procession is set out on the last day, and the Panj Pyaras walk in front crossing all the major gurudwaras in that area. Hola Mohalla is the time to celebrate and dedicate oneself into community service. 'Langars' are organised, and local people come forward to help by arranging the raw materials for the langar, cleaning the gurudwaras, and washing the dishes.
Photographic Tour
The lens of a photographer capture the seen and the unseen, prominent and abstract, colours and emotions and most of all feelings despite the silence…There is absolutely nothing that remains hidden from the eye of a photographer. If you are planning to witness this spectacular festival, write to us at info@odintours.com
Get a Custom made Tour Plan with No Obligations Quote
If you like this tour and would like a custom tour plan to your requirements, then please fill the form given below. You can specify destinations, number of days you would like at each destination, activities, hotel categories, specify vehicles, request a guide or translator, etc. If you are traveling with children or elderly please let us know so that we can prepare the plan accordingly. In case you can't find a specific destination listed on our site then let us know and we will work it out for you. We will send you a custom made tour plan and a no obligation quote. We look forward to welcoming you! See you soon!