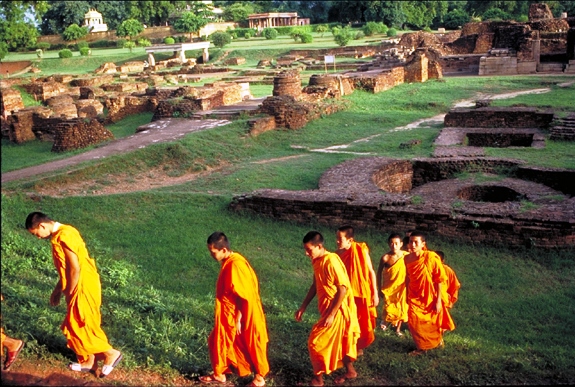 There are four places, the sight of which will arouse strong emotions in those with faith. Here the Tathagat was born. Here the Tathagat attained enlightenment. Here the Tathagat set in motion the Wheel of Dharma. Here the Tathagat attained final Nirvana. And The Monk, the Nun, the layman or Lay women who has faith should visit these places". The Buddha
In his very first sermon Lord Buddha put forth the Middle Way, the Four Noble Truths, and the Eightfold Path the message spread rapidly, penetrating caste and class barriers; today Buddhism is a way of life in large parts of the world, its message of peace and tolerance speaks to us all.
Buddha preached that the way to salvation is not dependent on God but on understanding the way things really are for all living beings subject to desire. We take you on a journey to places associated with important events in Buddha's life.
Prince Siddhartha was born at Lumbini, became Buddha, the Enlightened One, at Bodhgaya, gave his first sermon at Sarnath, lived the greater part of his monastic life in Sravasti, and attained Nirvana at Kushinagar. We also take in Lucknow, a City of Nawab's  known for its gracious living, and the fabled Taj Mahal in Agra.
Get a Custom made Tour Plan with No Obligations Quote
If you like this tour and would like a custom tour plan to your requirements, then please fill the form given below. You can specify destinations, number of days you would like at each destination, activities, hotel categories, specify vehicles, request a guide or translator, etc. If you are traveling with children or elderly please let us know so that we can prepare the plan accordingly. In case you can't find a specific destination listed on our site then let us know and we will work it out for you. We will send you a custom made tour plan and a no obligation quote. We look forward to welcoming you! See you soon!