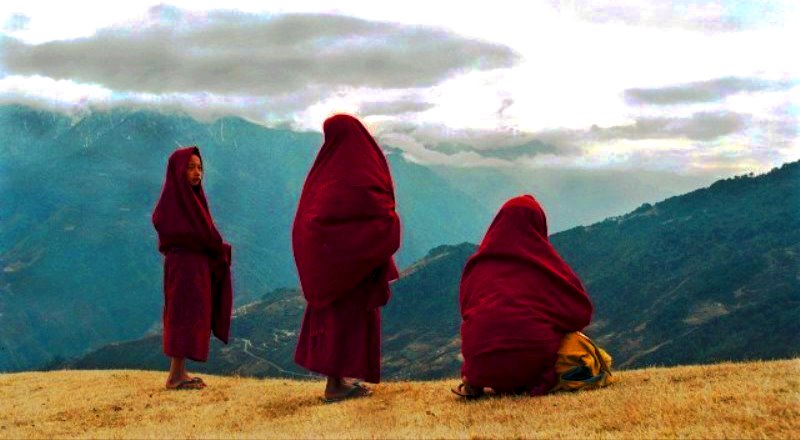 Arunachal is, literally, the land of the rising sun, where dawn first greets the easternmost state of India. Tawang is the crowning glory of this land. It is one of the largest and most important Buddhist centres in the world; the monastery, half a millennium old, pulsing with spiritual life, holds a significant collection of scriptures, images and thangkas.
Tribal groups of Burmese and Tibetan descent, proud of their unique identities, live harmoniously in timeless settlements between the mighty Brahmaputra and the Eastern Himalaya. Even our journey is sublime, taking you from tropical forests through tribal towns into the mountain roads and over the amazing Sela Pass at 14,000 feet above sea level. We have time in Tawang to immerse ourselves in this place of prayer and meditation. We also visit tribal villages and stay in Nameri National Park, home to rhino, tiger and numerous bird species. Invigorated and refreshed, our return journey takes us back through Assam and, by way of complete contrast, a couple of nights in the archetypal city of India that is Kolkata.
Tour Program
Day 01: Kolkata
You will arrive Kolkata airport and will be transferred to your hotel for overnight stay. The famous new market of Kolkata is a short walk away from your hotel.
Day 02: Kolkata – Tezpur
In the morning fly to Guwahati, the capital of Assam. Here you'll be met and driven on to Tezpur for a night at hotel.
Day 03: Tezpur – Bomdila
Start your ascent into the densely forested high Eastern Himalaya today with a drive to Bomdila. Visit the Tipi Orchid centre en route. The night is spent at the simple hotel. Visit the local monastery and tribal villages this afternoon.
Day 04: Bomdila – Tawang
A long but spectacular drive takes you over the high Sela Pass (4,180 metres) and into the almost mythical valley of Tawang. Stay at the hotel for three nights.
Days 05 and 06: Tawang
The next two days are free to explore the valley with your guide and driver. This will include visits to the Tawang Monastery which houses a collection of priceless artifacts dating back hundreds of years. There are also many smaller nunneries in the area and the colourful 'Monpa' people with their distinctive head dress.
Day 07: Tawang – Dirang
Leaving Tawang with fond memories you'll retrace the route back across the Sela Pass, this time stopping at the settlement of Dirang. The village still has much of its medieval architecture intact.
Day 08: Dirang
Dirang is a charming village to relax and spend time visiting the nearby tribal villages and the Shangtey Valley.
Day 09: Dirang – Nameri
You will descend down from the forested hills onto the steamy plains and the rich ecosystem of Nameri National Park. You will stay for next two nights at the Jungle Camp.
Day 10: Nameri
There are options for nature walks, angling and day hikes. For the more adventurous a rafting trip can be arranged.
Day 11: Nameri – Guwahati
Drive back to Guwahai for an overnight stay. Take a sightseeing tour of the city including the famous Kamakhya Temple.
Day 12: Guwahati – Kolkata
Fly to Kolkata, known in India as the 'city of Joy'; stay in hotel for 2 nights.
Day 13: Kolkata
Visit the sights this morning including the imposing Victoria Memorial, St Paul's Cathedral and the Indian Museum. The afternoon is free at your own leisure.
Day 14: Depart Kolkata
You will be transferred to the airport to board your flight back home.
Get a Custom made Tour Plan with No Obligations Quote
If you like this tour and would like a custom tour plan to your requirements, then please fill the form given below. You can specify destinations, number of days you would like at each destination, activities, hotel categories, specify vehicles, request a guide or translator, etc. If you are traveling with children or elderly please let us know so that we can prepare the plan accordingly. In case you can't find a specific destination listed on our site then let us know and we will work it out for you. We will send you a custom made tour plan and a no obligation quote. We look forward to welcoming you! See you soon!