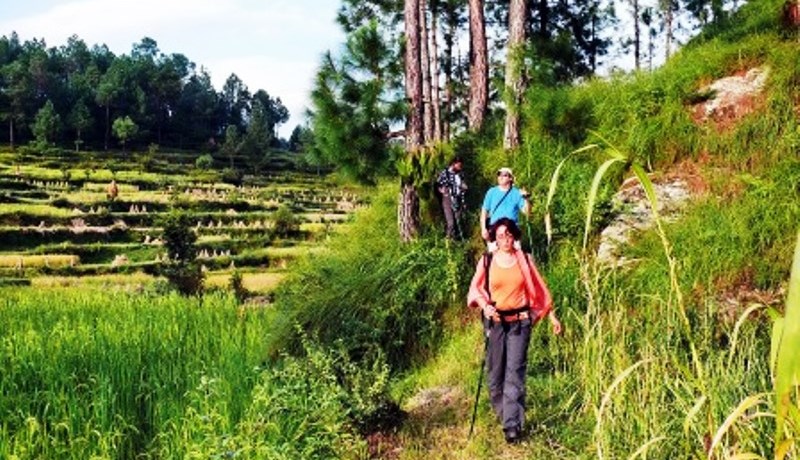 The concept of the 'Village Trek is unique as it provides an insight into the lives and daily routine of the Kumaoni villager. Overnight stays in the village houses gives you a chance to experience their warm and genuine hospitality.You stay in village houses during the walks. The accommodation is rustic but clean and has all the basic amenities. The houses have been partially renovated and amenities added without spoiling the ambience.
After a day's walk you can freshen up with a hot bucket bath. Food is cooked hygienically and mineral water is provided. The trek starts in the region of Almora which is the first British hill station (1815) in Kumaon district of Uttarakhand. Kumaon offers a natural environment where forests and wildlife have still to unfold their mysteries. Local religious customs and ancient traditions are very much alive here. This area has been a confluence where cultures have blended together, leaving behind an infinity of architectural wonders. Ancient temples, prehistoric paintings and charming villages set amongst green terraces.
The itinerary covers both the cultural and natural aspects of the region. Before beginning the trek you spend one or two nights night at a Hill Resort which helps to adjust to the altitude and will give you a ˜feel of the area with its abundance of flora and fauna. Every morning, the walk starts from one village, passes through fields, streams and end at a different village each afternoon.
Tour Program
Day 01: Delhi – Almora
Board a train from Delhi to Kathgodam (the last rail head to Kumaon Region) and transfer to Almora. You will spend next two nights in Almora. You can enjoy an easy walk to Chittai. The Chittai bell temple is dedicated to Golu Devta (Kumaon God of Justice). The temple is hung with petitions and bells of all shapes and sizes brought by grateful devotees. The trail to Chittai temple passes through Chir (Pine) forests with good views of the valley and Himalaya range.
Day 02: Almora
Today you will enjoy a full day excursion to Binsar. From Binsar, you will walk up to Zero Point through dense Oak and Rhododendron forests. Enjoy the view and hike downhill to Shiva temple. From there trek initially further downhill and then follow the western Binsar ridge towards Kangarchina. This is a very scenic walk with good views of the Himalaya on one side and the terraced valley on the other side.
Day 03: Almora – Deora
Today you will start the village walk through picturesque villages along terraced fields, waterfalls, along a winding stream and Chir (Pine) forests. This gentle walk through valleys takes you up to the village of Deora. Before reaching Deora you visit the 1000 year old temples of Kali and Vishnu. Deora is a charming village with wonderfully carved doors and windows overlooking the valley with the ancient temples. Freshen up and enjoy a welcome drink while the traditional and delicious Kumaoni dinner is cooked by the villagers, where the landlord while preparing it hops in and out of his fields to get fresh vegetables and herbs for your meal. Guests are welcome to watch and help! Relax, chat with the locals listening to tales of the past.
Day 04: Deora – Paliu
Today walking on the old village trails, you pass through several villages which give you a fantastic impression of Kumaoni local life, where the old traditions and culture are still part of their daily routine lives. You pass villages where the castes are strictly segregated, walk through terraced fields then along traditional irrigation channels and finally climb up to Paliu village. As everywhere in the Kumaon the people are friendly, curious in a childlike manner and more than happy to answer questions and be photographed. The walk takes you past ancient flour mills, where you can stop and see how they work.
Day 05: Paliu – Sokyatal
Walking through Pine forest along terraced fields and a few scattered small villages, the trail now climbs up steadily to Sokyatal village – set amidst forests of Oak and Rhododendron. (If you are traveling between February and April, you will be rewarded with the lovely views of the Rhododendron flowers in full bloom, a blaze of colour). From the top of this ridge, the panoramic views of the Himalayan valley are magnificent. You end the day watching sun setting across the Himalayan peaks. Stretch out with refreshment in the quaint, stone courtyard looking down into the Jageshwar valley.
Day 06: Sokyatal – Jageshwar Temples – Almora
Today you will walk from Jawalbanj to Jageshwar through terraced fields, villages and magnificent cedar forests. At Jageshwar you can visit the ancient temple complex built by the Chand and Katyuri rulers between 8th and 12th Century A.D. From there, you will drive back to Almora. On the way you can see the prehistoric rock art at Lakhudiar. Stay overnight in Almora.
Day 07: Almora – Delhi
You will be driven to Kathgodam Railway station where you will board the train back to Delhi.
Get a Custom made Tour Plan with No Obligations Quote
If you like this tour and would like a custom tour plan to your requirements, then please fill the form given below. You can specify destinations, number of days you would like at each destination, activities, hotel categories, specify vehicles, request a guide or translator, etc. If you are traveling with children or elderly please let us know so that we can prepare the plan accordingly. In case you can't find a specific destination listed on our site then let us know and we will work it out for you. We will send you a custom made tour plan and a no obligation quote. We look forward to welcoming you! See you soon!