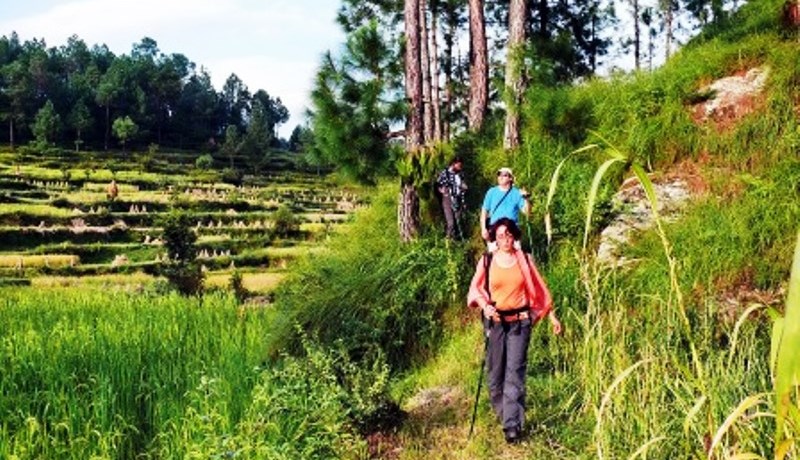 The concept of the 'Village Trek is unique as it provides an insight into the lives and daily routine of the Kumaoni villager. Overnight stays in the village houses gives you a chance to experience their warm and genuine hospitality.You stay in village houses during the walks. The accommodation is rustic but clean and has all the basic amenities. The houses have been partially renovated and amenities added without spoiling the ambience.
After a day's walk you can freshen up with a hot bucket bath. Food is cooked hygienically and mineral water is provided. The trek starts in the region of Almora which is the first British hill station (1815) in Kumaon district of Uttarakhand. Kumaon offers a natural environment where forests and wildlife have still to unfold their mysteries. Local religious customs and ancient traditions are very much alive here. This area has been a confluence where cultures have blended together, leaving behind an infinity of architectural wonders. Ancient temples, prehistoric paintings and charming villages set amongst green terraces.
The itinerary covers both the cultural and natural aspects of the region. Before beginning the trek you spend one or two nights night at a Hill Resort which helps to adjust to the altitude and will give you a ˜feel of the area with its abundance of flora and fauna. Every morning, the walk starts from one village, passes through fields, streams and end at a different village each afternoon.
Get a Custom made Tour Plan with No Obligations Quote
If you like this tour and would like a custom tour plan to your requirements, then please fill the form given below. You can specify destinations, number of days you would like at each destination, activities, hotel categories, specify vehicles, request a guide or translator, etc. If you are traveling with children or elderly please let us know so that we can prepare the plan accordingly. In case you can't find a specific destination listed on our site then let us know and we will work it out for you. We will send you a custom made tour plan and a no obligation quote. We look forward to welcoming you! See you soon!