Japanese sonata in Jakhama air
Tourists visiting Hornbill Festival surprised to hear familiar tune in faraway land
By NISHIT DHOLABHAI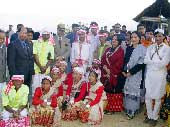 Nagaland governor Shyamal Datta and chief minister Neiphiu Rio and their wives pose with members of the cultural troupes from Assam and East Zone Cultural Centre, Calcutta during the inauguration of the Hornbill Festival near Kohima on Monday. (PTI)
Kisama, Dec. 2: A six-member group of Japanese tourists visiting this sleepy village, the venue of the Hornbill Festival, were today pleasantly surprised to be a served a slice of Japan in a land far away from theirs.
As Yamanaka Kyoto took a sip of zutho (rice beer) offered by Jakhama village elder Thenuzeho, he had no idea what was coming next.
Much to his and the five other Japanese tourists' surprise, Thenuzeho and the other elders sitting outside the Angami hut in this tourist village broke into an old Japanese song.
The bystanders were left speechless as two of the tourists joined the elders.
It was both a cultural integration and a rekindling of memories of the World War II, when many Japanese soldiers lost their lives fighting the British in Nagaland.
The tourists and the Naga group conversed through an interpreter, but the rapport between them suggested language would not have been a barrier even without the services of one.
"The British gave you a befitting defeat; so you will not be happy to remember the war. But let me tell you that there were hundreds of your people in our village," an elderly Angami said.
Kyoto, whose Tokyo-based Saiyu Travels has identified tourism in Nagaland as a potential business opportunity, said he would like to look at the future rather than hark back to the past.
"This is wonderful," he said of the ambience here and the hospitality of the Naga people.
The Japanese government has contributed to the construction of the Catholic cathedral in the state capital. More funds are reportedly on the way for a World War II museum at Kisama.
Delhi-based tour operator Mukul Azad, who arranged the trip by Kyoto's group, said he had brought 40 Japanese tourists and 35 Germans to Nagaland this year.
"These figures are only from my agency. And we have been doing business in the state for only two years now."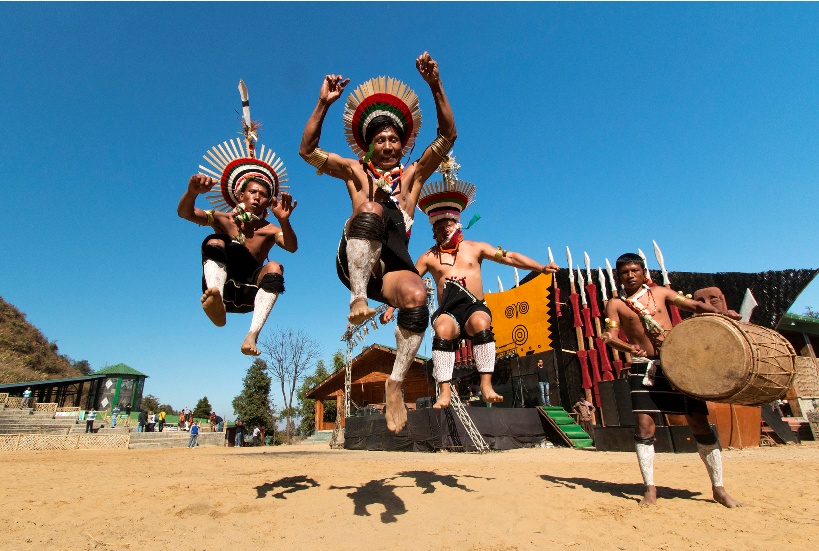 At the huge amphitheatre here, a battery of photographers recorded every moment of the mock tribal battles being enacted in front of an eager audience. Phom warriors dramatically demonstrated both headhunting and tattooing skills.
A Zeliang hut at the venue was particularly popular among the Naga visitors, selling copious amounts of rice beer.
Last year, the government had barred sale of the traditional drink at the venue of the festival at the behest of the Church.
The following article is taken from The Telegraph newspaper dated December 3, 2003.
The original article is available at https://www.telegraphindia.com/1031203/asp/northeast/story_2635875.asp