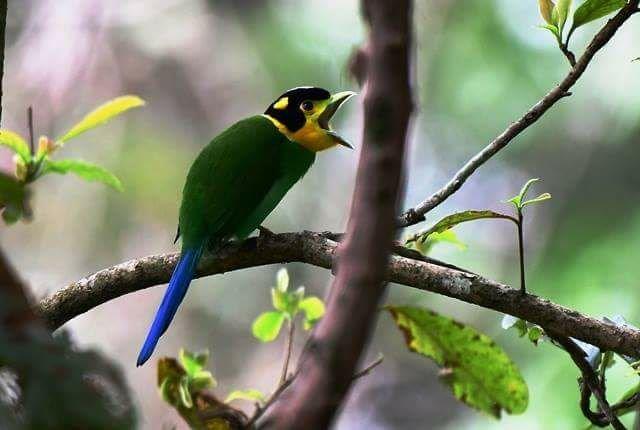 Sattal or Sat Tal (Hindi for "seven lakes") is an interconnected group of seven freshwater lakes situated in the Lower Himalayan Range near Bhimtal, a town of the Nainital district in Uttarakhand, India. During the British Raj, the area had a tea plantation, one of four in the Kumaon area at that time. The lakes sit at an altitude of 1370 metres below lush orchards in the Mehragaon valley. Set amongst dense forests of oak and pine trees, Sattal is one of the few unspoiled and unpolluted freshwater biomes in India.
Travel Itinerary:
Day 1- Early morning pick up from Kathgodam Railway Station (arrival from Delhi by Ranikhet Express at 05:05 hrs) and transfer to hotel at Sattal. Check in (if rooms are available early morning otherwise rooms will be allotted after 10:00 hrs), freshen up and birding at Sattal Studio Point with packed breakfast. Back to hotel for lunch. Afternoon birding around Studio Point. Night stay on twin sharing basis.
Day 2- Morning birding around studio point. Afternoon birding at Chaanfi area.
Day 3- Morning birding at Sattal main road. Check out and Transfer to Pangot. Check in at hotel at Pangot, lunch at Pangot, afternoon birding at Timlipani trail. Night stay on twin sharing basis.
Day 4- Morning birding on Kunjakharak road. Afternoon birding around lodge and on Kilburry area. Check out from lodge at 18:00 hrs and transfer to Kathgodam Railway Station. Train departure time for Delhi: 20:40 hrs.
—End of Tour —
Target Birds: Cheer Pheasant, Koklass Pheasant, Kalij Pheasant, Hill Partridge, Rufous-throated Partridge, Bearded Vulture, Himalayan Buzzard, Black Eagle, Grey-winged Blackbird, Long-billed Thrush, White-crested Laughingthrush, Striated Laughingthrush, Chestnut-crowned Laughingthrush, Striated Laughingthrush, Rusty-cheeked Scimitar Babbler, White-browed Scimitar Babbler, Brown Dipper, Crested Kingfisher, Long-tailed Broadbill, Blue-throated Blue Flycatcher, Verditer Flycatcher, Ultramarine Flycatcher, Mountain Bulbul, Black-throated Sunbird, Mountain Scops Owl, Collared Owlet etc.   
Tour Cost
Please fill query form to request a quote
 Tour Leader – Mukul Azad

Tour Cost Inclusions
Conveyance charges from Kathgodam Railway Station and back
Nights stays at Pangot and Sattal on twin sharing as per itinerary
All meals (vegetarian/non-vegetarian till lunch on last day) as mentioned in the itinerary
All entry fees, guide charges, taxi and driver charges
Service of a dedicated professional wildlife photographer and naturalist for the entire tour
All applicable taxes
Tour Cost Exclusions
Travel cost from participant's home town to Kathgodam and back
Any extra food item not included in the meal as per itinerary
Any alcoholic beverage
Any non-alcoholic beverage not included in the meal as per itinerary
Laundry, phone call, etc. personal charges
Tips
Anything which is not mentioned in "Tour cost includes"
Get a Custom made Tour Plan with No Obligations Quote
If you like this tour and would like a custom tour plan to your requirements, then please fill the form given below. You can specify destinations, number of days you would like at each destination, activities, hotel categories, specify vehicles, request a guide or translator, etc. If you are traveling with children or elderly please let us know so that we can prepare the plan accordingly. In case you can't find a specific destination listed on our site then let us know and we will work it out for you. We will send you a custom made tour plan and a no obligation quote. We look forward to welcoming you! See you soon!