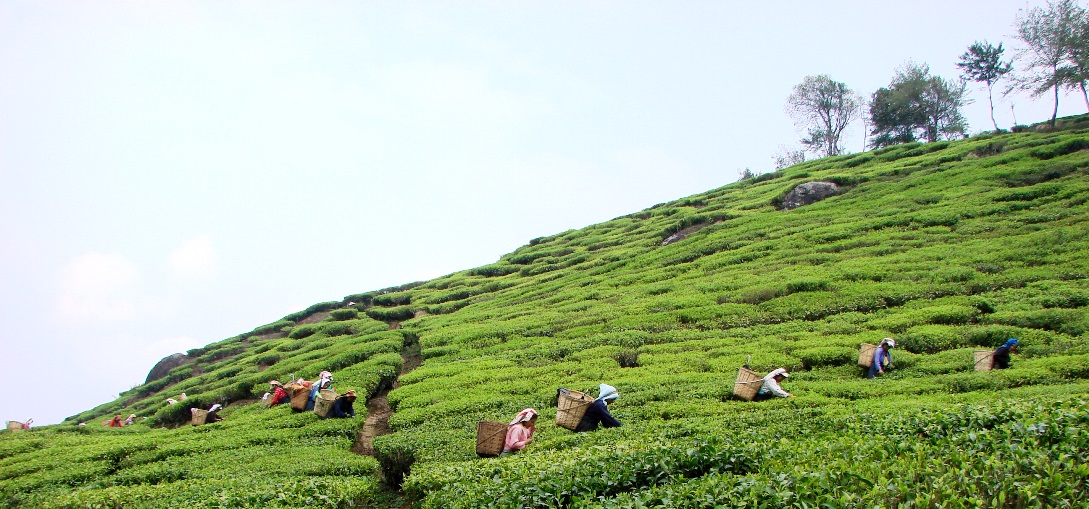 After water, tea is the most widely consumed beverage in the world! India is the worlds largest producer of Tea. This tea tour takes you to the very places where famous Assam Tea are planted, produced, processed and packaged. The accommodation is in colonial tea bungalow bringing back the nostalgic feelings of the bygone era. Come, join us for a drink!
The journey is through lush green fields with mist covered mountains at the backdrop, voices of cicadas and birds filling the air with no other sounds to compete with them, cool unpolluted wind carrying the drifting odour of fresh tea from the factories. The accommodation is in colonial tea bungalow – bringing back the nostalgic feelings of the bygone era. Come, join us for a drink!
Darjeeling tea has traditionally been prized above all other black teas, especially in the UK and the countries comprising the former British Empire. When properly brewed it yields a thin-bodied, light-coloured liquor with a floral aroma a tinge of astringent tannic characteristics, and a musky spiciness. A sweet cooling aftertaste should be felt on the mouth.
Assam is a black tea named after the region of its production. This tea grown at sea level is known for its body, briskness, malty flavor, and strong, bright color. Though Assam generally denotes the distinctive black teas from Assam, the region produces relatively smaller quantities of green and white teas with their own distinctive characteristics.
A tea estate is a perfect domicile in natures lap. For city dwellers a tea estate would be a real treat to the eye, an apt location for relaxing the tired mind, totally an ideal place to spend a holiday. The idea is to provide a person, who lives far away from nature, deprived of all nice things that nature offers, a chance to reside in a completely natural environment. A tea tour would include nature walks around the garden, trekking, chance to harvest and prepare their own tea and accommodation in one of the antique wooden bungalows in the garden. It is a rewarding experience for a tea enthusiasts and a dealer alike!
Tour Plan – Kolkata – Glenburn – Tezpur – Jorhat – Dibrugarh – Kolkata
Tour Program
Day 01: Kolkata
You will arrive Kolkata airport and will be transferred to Oberoi Grand – a Deluxe Colonial Hotel – at Chowringhee for overnight stay. The famous new market of Kolkata is a short walk away from your hotel.
Day 02: Kolkata – Glenburn
Take a morning flight to Bagdogra. You will be met and driven to Glenburn Tea Estate on the outskirt of Darjeeling. Started by a Scottish tea company in 1859, Glenburn is a heavenly little plantation retreat that lies on a hillock above the banks of the River Rungeet, high in the Himalayas, overlooked by the mighty Kanchenjunga mountain range. You will stay at Glenburn for next two nights.
Day 03: Glenburn
Today you will begin your "Tea Experience" by walking through tea fields with one of our guides, who will give you an insight into how the tea bush is grown and looked after. You will learn how to pluck the "two leaves and a bud" – that is later manufactured into the tealeaf that ends up in your teacup! During the winter season, learn about the different types of pruning that is undertaken to increase the yield of the coming season.
Day 04: Glenburn – Tezpur
Rise early morning today to drive back to Bagdogra airport. Take a flight to Guwahati. You will be met and driven to Tezpur (5 hours drive). The tea auction is held twice a week at Guwahati – Tuesday and Wednesday. If possible, we will take you to Tea Auction center to observe the proceedings before driving to Tezpur. You will stay at Wild Mahseer Lodge situated inside the Adabari Tea Estate for two nights. The Wild Mahseer Lodge is located on the north bank of the Brahmaputra River. The Adabari Tea Estate, which originally belonged to the British Assam Tea Company, goes back to the year 1900. Till 1962, the manager operated from the single-storied Burma teak bungalow here. Subsequently, the office was shifted, and the sprawling bungalow was left unoccupied. The property has been renamed Wild Mahseer (after a popular fish found in the Brahmaputra and Jiabharali river nearby), and the bungalow has been re-christened The British Assam Heritage Bungalow.
Day 05: Tezpur
Spend a leisurely day at the Tea Estate enjoying the warm hospitality and the scenic beauty. Enjoy various blends of tea from the Adabari Tea Estate in a "Tea tasting session".
Day 06: Tezpur – Jorhat
After breakfast you will drive to Jorhat (4-5 hours). Jorhat, the gateway to north-east Assam is the heartland of tea. Besides its many tea estates, it has the famous Teklai Experimental Centre that conducts research on new varieties of tea and its therapeutic effects.
Your stay for next two nights is arranged at the Burra Sahib's Bungalow or the Thengal Manor. Starting with the British colonial exterior, soak in the sprawling interiors of carpeted, wooden floors, four to five bedrooms, high ceilings, verandahs with sloping roofs and a panoramic view of acres of flower-bedecked garden. Take a peek into the life of the tea estate manager as he begins his day at 6 AM. Walk with him as he makes his rounds of the garden.
Day 07: Jorhat
Enjoy a life in the Tea Estate – amidst early morning mist, trilling songbirds and rolling, verdant hills… Yes, it is indeed a world apart, if you happen to be staying in a 'burra sahib bungalow', where the tea estate manager lives. Known for their quaint, colonial architecture, these bungalows are associated with a unique and graceful lifestyle of an age gone by.
Have a leisurely breakfast. Spend the morning relaxing amidst the tea estate taking an occasional stroll and tasting the exquisite varieties of tea. Visit the tea factory later in the day and witness first-hand the various processes carried out there followed by a "Tea tasting session".
Day 08: Dibrugarh
After breakfast you will drive to Dibrugarh (3 hours drive). Your stay for next two nights is arranged at Mancotta Chang Bunglow located at the Mancotta Tea Estate. The bungalow still retains its old world charm because of its large rooms with wooden flooring and old colonial furniture. Watch a traditional dance performance by the local tea tribes in the evening sipping the garden fresh tea.
Day 09: Dibrugarh – Kolkata
After breakfast visit the tea garden with an expert tea taster who will later demonstrate how freshly made tea is carefully measured out and brewed in special cups made for sampling. Participate in the tea tasting session to judge the samples for appearance, aroma, taste and strength.
Afternoon you will be transferred to the airport to board your return flight to Kolkata. You will stay in Kolkata for one night (or more if you wish explore this Metropolis)
Day 10: Depart Kolkata
You will be transferred to the airport to board your flight back home.
(Please note Tea Factories are functional from March to October only)
Kaziranga Extension:
On day 09, drive from Dibrugarh to Kaziranga National Park, famous for its one-horned rhino. It is also home to the wild buffalo, swamp deer, tiger and elephant; apart from being rich in bird-life. Stay three nights on full board at the well-run Jungle Resort and enjoy jungle activities including game drives and elephant safaris. Fly to Kolkata on day 12 for a night in hotel before flying to onward destination.
Get a Custom made Tour Plan with No Obligations Quote
If you like this tour and would like a custom tour plan to your requirements, then please fill the form given below. You can specify destinations, number of days you would like at each destination, activities, hotel categories, specify vehicles, request a guide or translator, etc. If you are traveling with children or elderly please let us know so that we can prepare the plan accordingly. In case you can't find a specific destination listed on our site then let us know and we will work it out for you. We will send you a custom made tour plan and a no obligation quote. We look forward to welcoming you! See you soon!