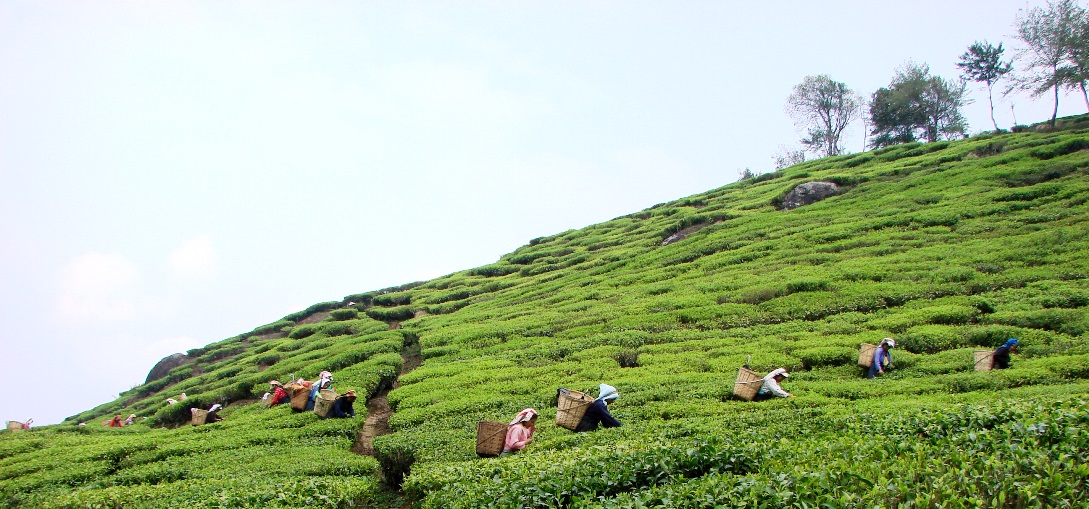 After water, tea is the most widely consumed beverage in the world! India is the worlds largest producer of Tea. This tea tour takes you to the very places where famous Assam Tea are planted, produced, processed and packaged. The accommodation is in colonial tea bungalow bringing back the nostalgic feelings of the bygone era. Come, join us for a drink!
The journey is through lush green fields with mist covered mountains at the backdrop, voices of cicadas and birds filling the air with no other sounds to compete with them, cool unpolluted wind carrying the drifting odour of fresh tea from the factories. The accommodation is in colonial tea bungalow – bringing back the nostalgic feelings of the bygone era. Come, join us for a drink!
Darjeeling tea has traditionally been prized above all other black teas, especially in the UK and the countries comprising the former British Empire. When properly brewed it yields a thin-bodied, light-coloured liquor with a floral aroma a tinge of astringent tannic characteristics, and a musky spiciness. A sweet cooling aftertaste should be felt on the mouth.
Assam is a black tea named after the region of its production. This tea grown at sea level is known for its body, briskness, malty flavor, and strong, bright color. Though Assam generally denotes the distinctive black teas from Assam, the region produces relatively smaller quantities of green and white teas with their own distinctive characteristics.
A tea estate is a perfect domicile in natures lap. For city dwellers a tea estate would be a real treat to the eye, an apt location for relaxing the tired mind, totally an ideal place to spend a holiday. The idea is to provide a person, who lives far away from nature, deprived of all nice things that nature offers, a chance to reside in a completely natural environment. A tea tour would include nature walks around the garden, trekking, chance to harvest and prepare their own tea and accommodation in one of the antique wooden bungalows in the garden. It is a rewarding experience for a tea enthusiasts and a dealer alike!
Get a Custom made Tour Plan with No Obligations Quote
If you like this tour and would like a custom tour plan to your requirements, then please fill the form given below. You can specify destinations, number of days you would like at each destination, activities, hotel categories, specify vehicles, request a guide or translator, etc. If you are traveling with children or elderly please let us know so that we can prepare the plan accordingly. In case you can't find a specific destination listed on our site then let us know and we will work it out for you. We will send you a custom made tour plan and a no obligation quote. We look forward to welcoming you! See you soon!