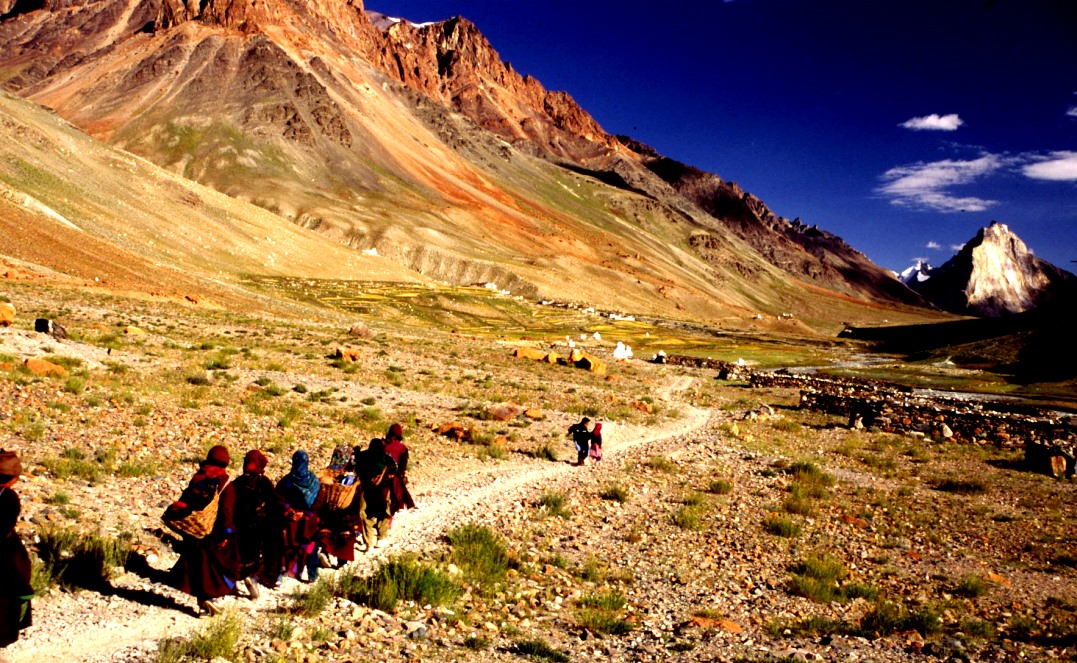 Zanskar trek is an epic journey through some of the most remote and spectacular areas of Ladakh and Zanskar. It is a treat for both newcomers to the Indian Himalaya and veteran trekkers alike. Passing over many snow-covered passes and rugged valleys, the trek combines the best of the Himalayas, the remote villages and fascinating culture of central Zanskar with the vivid history and colorful, living gompas (monasteries) of Ladakh. Starting from Lamoure, the trek crosses many high passes over 5000m before entering into verdant valley of Himachal Pradesh. On the trek, you will see many ancient monasteries and remote hamlets.
Day 1   Arrive Delhi
Upon arrival at Delhi meet our executive and transfer to hotel for overnight stay.
Day 2  Delhi – Manali (510 kms/ 12-13 hrs)
In the morning haf day sight seeing at Delhi including Red Fort built in 1648 by Mughal Emperor Shah Jahan, Raj Ghat and Shantivan, the cremation sites of Mahatma Gandhi and Jawaharlal Lal Nehru, India Gate (War Memorial Arch), Akshar Dham Temple and then evening drive to Manali by AC Luxury Volvo coach. Overnight journey.
 Day 3   Manali (2050 mts)
Arrival at Manali by morning and then transfer to the hotel for relax. Evening free to explore the Mall road. Dinner and overnight stay at the hotel.
Day 4  Manali – Darcha (3400 mts) (147 Kms/7-8 hrs drive)
After breakfast drive to Darcha. Across Rohtang Pass (3,980 mts.) which is the gateway to Lahual, Spiti, Pangi & Zanskar Valleys. 8 hours drive through Lahual valley. Dinner and overnight stay at the camp.
 Day 5   Darcha – Palemo
After breakfast trek to Pa-Lahmo. Darcha is the last village of Himachal Pradesh on the way to Leh. It is the starting point of Darcha to Padam trek. We start our trekking today. First day it's an easy trekking of 3-4 hrs, follow the track until the last hamlet then good footpath and pass a spectacular gorge. Dinner and overnight stay in tent.
Day 6  Palemo – Zanskar – Sumdo (5-6 hrs).
Continue trekking and follow the track on the left side of the river passing through the rocky path with big boulders and moraines. We also have to cross streams twice or thrice enroute. Arrive Zanskar Sumdo (4000 M), a good camping ground for the night stay. Dinner and overnight stay in thents.
 Day 7   Zanskar Sumdo – Chuminakpo (5-6 hrs).
Today its trekking high up on mountain side. First cross the river by a hanging bridge and then steep climb up for about an hour and then follow the trek on a narrow valley until you reach Ramjak, a small meadow. Thereafter to Chuminakpo (4800 m). Dinner and overnight stay in tents.
Day 8  Chminakpo – Lukung (7-8 hrs).
Climbing zigzag up through the moraine, ice and snow up to Shingo-La (5090 m). Thereafter descent is through the iceand the snow which is steep and dangerous for the horses and the mules till you reach small meadow. Lukung (4400 m) is further down near the river Dinner and overnight stay in tents.
 Day 9   Lukung – Kurgiak Shi (7-8 hrs)
It's long and easy trekking up and down. Crossing over the bridge we go to another side of the river and follow the path with a mass of fallen rock. Besides this we cross several streams and also pass beneath the face of Gumburanjon peak. Dinner and overnight stay in tents.
Day 10  Kurgiak Shi – Purne
Long day of about 8-9 hrs trek. After breakfast continue on the right side of the river along an easy path. We pass through some villages such as Table, Tanze, Kuru, and Jal. Kuru is a major village of livestock breeders. Climb up the gentle slope is the village Jal and thereafter steep descent towards a good bridge for Purne (3650 m). Dinner and overnight stay in tents.
 Day 11   Purne – Phuktal – Gyalbokh (6-7 hrs).
Today we visit Pughtal Gompa, one of the oldest monastery in Zanskar and spectacularly located. Passing through a narrow valley and the splendid gorge we cross the bridge and come to an small plateau sprinkled with chortens and religious banners. From here we see one of the most spectacular sight of the Pughtal Monastery built in a cave. The monastery belongs to the tradition of the Gelugpas (Yellow Hats). Back to Purne and further trekking up on the left bank of Tsarap river after crossing the bridge. Arrive Gyalbokh village. Dinner and overnight stay in tents. Phuktal Monastery, one of the most spectacular sights in Zanskar. Phuktal belongs to the tradition of the Gelupas(yellow-Hat Monks).The monastery is like a honeycomb, cut into a cock under a gignantic grotto, and has 70 monks. in the caves over the monastery, there is a water hole whose water level never receds, even after taking out any amount of water from there. Water is said to have healing powers.
Day 12  Gyalbokh – Raru (3700) (6-7 hrs)
several difficult stretches for the horses and mules. A gradual climb before coming to small plateau and the gradual descending towards to Raru village. Dinner and overnight stay in tents.
 Day 13   Raru – Mone – Padum (6-7 hrs)
Its an easy trekking down on motorable road. After an hour's trekking we come to a small village called Mone. Visit a Gompa there. Further enroute after two hours is Bardan Gompa , situated on mountain plateau. Arrive Padam (3650 m), the capital of Zanskar where two rivers Doda and Tsarap join to form Zanskar river. Dinner and overnight stay in tents.
Day 14  Padum
Day free. Dinner and overnight stay in tents.
 Day 15   Padum – Karsha – Rinam (6-7 hrs)
From Padam head towards Pipiting and follow a dusty plain towards the Doda river and reach bridge. Cross the bridge to reach Karsha Monastery dating back to the 16th century. It is the largest and the wealthiest of all monasteries in Zanskar. Further trekking down on the plain path is Rinam. Dinner and overnight stay in tents.
Day 16  Rinam – Pissu (5-6 hrs)
Today we trek through the easy stretches often hot and dusty through the bank of Zanskar river and a small stream and shelter formed by rocks. Dinner and overnight stay in tents.
 Day 17   Pissu – Hanumil (5-6 hrs)
Follow left bank of Zanskar River. Easy going along the river , sometimes across the moronic plateau. Dinner and overnight stay in tents.
Day 18  Hanumil – Purfila – Snertse (6-7 hrs)
Now onwards the path leads us away from Zanskar river. Climb up to Parfi-La (3950 m) and then steep descend until reaching the Oma-Chu river . Crossing over the bridge and further climb up a 500 m sandy slope we reach the sheepfolds of Snertse. Dinner and overnight stay in tents.
 Day 19   Snertse – Hanumi La – Lingshed (7-8 hrs)
Long gradual ascend towards Hanumi-La (4877 m) . Reach the top of Hanumi-La and then steep descent about 1000 meters. Again climb about 400 meter up along the mountain side, cross a small pass and then easy descent to Lingshed (3800 m). Overnight in Tent.
Day 20  Lingshed – Foot of Shinge La
Gradual one hour climb to the Murgum-la (4200 m) then pass an escarpment, go along the slope. Gentle descent towards the villages of Gongma and Skiumpata. Steep climb to Kiupa-la (3850 m) and then gradual climb along mountainside to the foot of Shinga-la.
Day 21   Foot of Shinge La – Photoskar (7-8 hrs)
About one to two hours steep climb to Shinga-la (5060 m) and then descending to a broad valley. Again gentle climb towards Bhumiktse-la (4200 m) and descending towards Photoskar (3750 m) , a splendid village. Dinner and overnight stay in tents.
Day 22  Photoskar – Sir Sir La – Hanupatta
From Photoskar it's gentle climb up to a large chorten, then long ascent of Sisir-la (4990 m). An easy descent to the river and village Hanupatta (3450 m). Overnight IN Tent. (6-7 hrs)
Day 23   Hanupatta – Shilla (5-6 hrs)
Trek down the slope until entering the gorge and the bridge at the junction of the two rivers. Some easy some difficult stretches of fallen rocks until Phenjilla. Afterwards its trekking on motorable road up to Wanla (3245 m). Dinner and overnight stay in tents.
Day 24  Shilla – Lamayuru – Leh
Last day of our trekking. We pass the Shilla village to cross Prinkiti-la (3726 m). to reach Lamayuru (3 hrs). Visit monastery and drive to Leh (3500 m). Dinner and overnight stay in guest house.
Day 25   Leh – Delhi
In the morning after breakfast transfer to airport, from here catch a flight for Delhi..
Get a Custom made Tour Plan with No Obligations Quote
If you like this tour and would like a custom tour plan to your requirements, then please fill the form given below. You can specify destinations, number of days you would like at each destination, activities, hotel categories, specify vehicles, request a guide or translator, etc. If you are traveling with children or elderly please let us know so that we can prepare the plan accordingly. In case you can't find a specific destination listed on our site then let us know and we will work it out for you. We will send you a custom made tour plan and a no obligation quote. We look forward to welcoming you! See you soon!